Soddy Daisy LED Signs
VIEW GALLERY
Businesses need to use various tactics to expand their brand presence and make people curious about their offerings. Some would go all out with their marketing strategy, while others first invest in signs that will definitely help them stand out. Whether you are a new business or an established one, utilizing the right signs can definitely boost your marketing strategy for your brand, and out of all the available options, LED signs can help your brand pop.
LED signs have the same impact as neon signs, which were once used by many businesses to catch the attention of their target market and stand out from their competition. Unfortunately, neon signs are very hard to maintain and can be very expensive to use, which is why new technologies like LED signs were developed. LED signs use LED lights to reduce the amount of electricity needed to power these signs and don't require a lot of maintenance. LED lights are also available in different variants to mimic other types of lights, like neon lights.
If you want to invest in personalized Soddy Daisy LED signs that you can use for your business, Visual Impression Sign Solutions can make it for you. Our team is fully equipped and trained to create LED signs of various styles, specifications, and sizes to suit your business and goals. Once your LED signs are installed in your business, we are sure it will help your business gain traction and help your brand be known.
Call Visual Impression Sign Solutions at (423) 594-2672 for your Free Consultation with a Soddy Daisy LED Sign expert!
Indoor LED Signs
If your business or office is located inside a building, you will need eye-catching wayfinding and identification signs that won't look out of place beside other building tenants.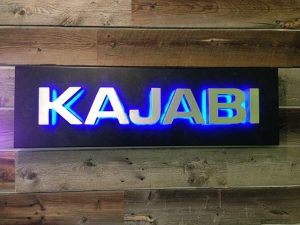 LED signs are the way to go because they can allow you to personalize them to reflect your brand personality and light them up so people can see them easily. You can also use LED signs inside your store to guide people to key areas, such as cashiers, pickup areas, and others.
If your custom Soddy Daisy LED signs will be used for indoor signs, we could design them to suit your brand's font style, brand colors for lighting, and the overall size of the sign. We can even customize them further by adding animations and even making them programmable LED signs.
Programmable LED Message Centers
Do you want to invest in LED signs that you can customize without affecting their capability to catch your clients' attention? Visual Impression Sign Solutions recommends getting a custom programmable LED message center for your business.
Programmable LED message centers can come as part of your existing business signs or a standalone sign in the type you need. We will sit down with you to learn what you want these LED message centers to look like and display. You will also be guided as to how these message centers can be updated to display your content, while our team will install these message centers safely and securely in a location where people will see them easily.
Full-Service Lighted Sign Company
When it comes to custom Soddy Daisy LED signs, you will never go wrong with Visual Impression Sign Solutions as your sign partner. We take pride in always delivering personalized signs for our clients no matter how specific your design requirements are and how much budget you have for the project. We will use our experience and know-how to design the signs to your specifications perfectly and deliver them to you on time.
In order to make our services efficient and guarantee quality for each sign we do, we are equipped to handle each aspect of the sign project in-house. This means that we have everything needed for the sign project, from the graphic team who can help clients design their dream signs, the substrates, and equipment needed to make them in any type of sign required by the client, to the installation and maintenance teams who will make sure your signs are properly installed in the best location and maintained for a long time.
We guarantee that you will not stress out about anything when you request your signs from us. Our team will also visit your location to determine where these signs will be placed and what other business signs are ideal for your business, so you have consistent messaging in all your signs and graphics. Let us know what you need, and we will deliver it to you perfectly!
Free LED Sign Consultation
Whether you plan to use it as a storefront sign or a part of your interior setup, LED signs can definitely help you stand out and keep the brand visible at any given time. But, for a more effective display, you should get these LED signs tailored to your brand's personality and image.
At Visual Impression Sign Solutions, you can trust our team to develop custom LED signs that will not only showcase your branding, but also give clients a reason to check your brand. We also guarantee that these LED signs will last a long time and be an investment that will generate all the impressions you need to help your business and brand grow well. No matter how detailed you want your signs to look or what budget you got, let us know, and our Soddy Daisy, TN sign company won't disappoint you with the results.
Call Visual Impression Sign Solutions at (423) 594-2672 for your Free Consultation with a Soddy Daisy LED Sign expert!